Torrential rainstorms that caused flash flooding of water and mud on the Spanish island of Mallorca killed at least nine people, authorities said on Wednesday.
A wave of muddy water swept through the town of Sant Llorenc des Cardassar after a river burst its banks following heavy rain on Tuesday evening.
The British Foreign Office said it is "urgently seeking updates" from local authorities after reports that two Britons were among those killed.
Emergency services confirmed that there had been at least five deaths in total, adding that "several [people] are missing".
The town of Sant Llorenc is around 60 kilometres east of Palma - the capital of the Mediterranean island.
At least three towns closed schools and hundreds of people were sheltered in sport facilities and a local horse racing track, authorities said.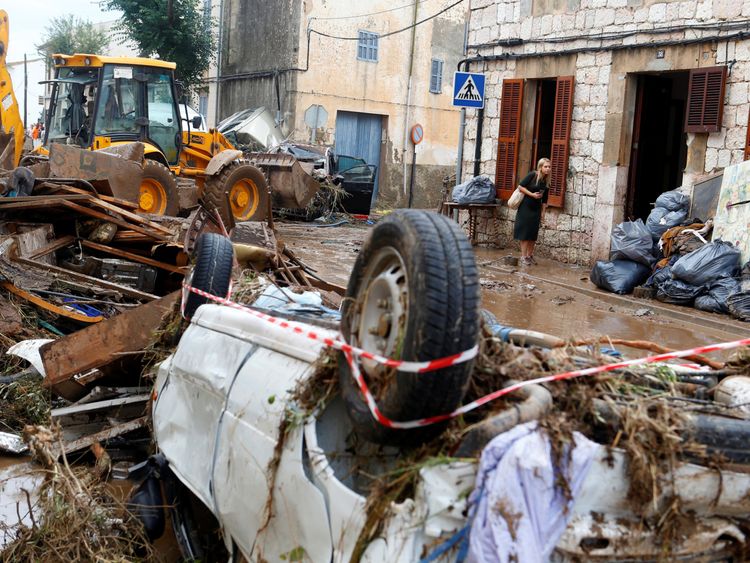 Image Heavy rain and flash floods hit Sant Llorenc de Cardassar on the island of Mallorca Spain
Spain's Prime Minister Pedro Sanchez and members of Parliament hold a minute of silence for the victims of heavy rains in the Spanish island of Mallorca at the start of a parliamentary session in Madrid, Spain, October 10, 2018.
Other victims were found in Arta and the coastal town of S'illot, where the overflowed creek reaches the sea.
According to Spanish meteorological agency Aemet, more than 8in (20cm) of rainfall in just a few hours hit the island on Tuesday.
Video footage showed cars turned upside down, damaged houses and trees in the road.
Officials have said more than 600 rescuers and medical staff were at work and that emergency relief centres had been set up in sports halls.
Sanchez will be flying to the area later Wednesday, his office said.